New Website Design for Home Renovations Contractor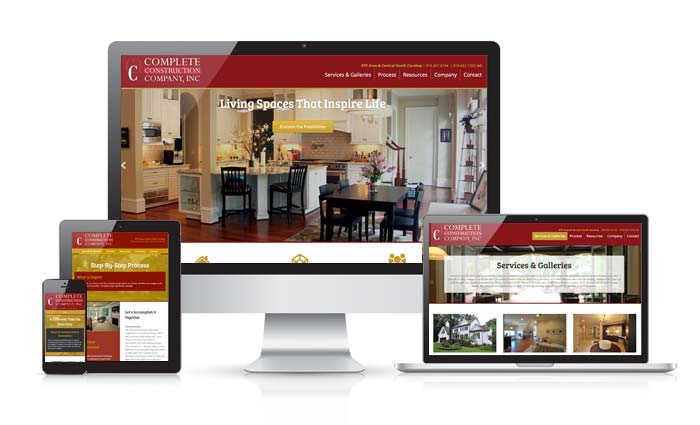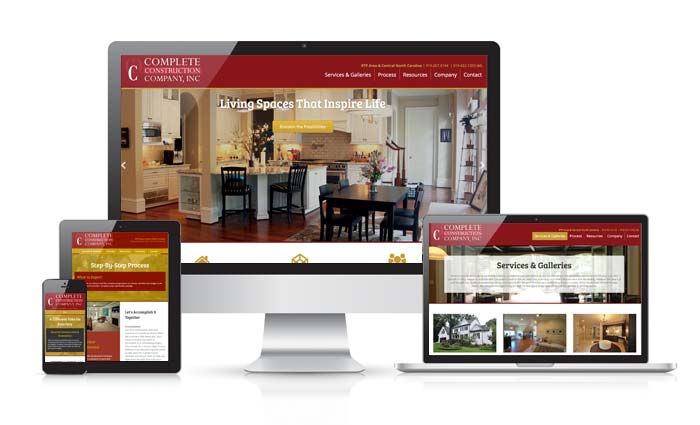 Another new website design has launched from Corner Tab Creative! We want to introduce the new online face and presence of Complete Construction Company out of Apex, NC! The company is owned by Glenn White who has served the home renovations and construction remodeling industry for over 35 years. Glenn and his team are known for innovative, professional work, so they needed a new website design that would reflect that image and communicate quality to potential customers. Glenn understood his old site was not responsive, meaning it did not conform to smartphone and tablet screen sizes, and he felt they might be loosing some valuable leads by not being current with new technology standards. He wanted a fresh, engaging website that showcased his projects and talents in a contemporary online setting. Corner Tab was glad to help!
We enjoy designing and developing websites for the construction industry and Complete Construction Company is certainly a valuable partnership. Together with Glenn and his team, we worked to build a thorough gallery presentation that highlights Whole House Renovations, Single Rooms, Kitchens and Baths, Exteriors, and Specialty Construction projects. This enables customers to immediately see Glenn's dedication and attention to detail within his portfolio. From there they can dive deeper into his company's capabilities by visiting pages regarding his building process, the systems he has in place to keep customers informed, testimonials from current and past clients, awards and accolades, plus a contractor interview and FAQs. Corner Tab wanted to draw a complete picture for website visitors in order to drive qualified leads for Glenn, and even though the website is still new, it's already converting well by generating weekly leads for renovation projects.
So what is the goal moving forward you might ask… it is to continue improving Complete Construction Company's online marketing and branding campaign. Like with the rest of our clients, we strive to develop an ongoing relationship that we think is a worthy investment. It's our job to bolster and monitor search engine traffic, keep the new website design updated for security, drive lead conversions through forms and contact methods and help maintain fresh imagery and content. It's a simple concept. If our efforts are successful, that means Glenn will be too, and that is a win/win for everyone.